Keizerskino
Community film watching
Keizerskino
Keizers Kino is an informal film night happening at Keizersgracht 126, a building shared by several architecture studios in the centre of Amsterdam. The screenings take place once every two weeks on Wednesday at 19:00 in the big meeting room on the ground floor. For more information visit Keizerskino blog.
The Adventures of Priscilla, Queen of the Desert (1994)

7
Stephan Elliott
+The gloriously titled 1994 feature film, The Adventures of Priscilla, Queen of the Desert is a pink Opera house standing at the tip of the harbor of Australian cinema. It is a story of three drag queens en route to Alice Springs, a dead center of Australia, where they are to perform a lip-syncing dance show. Their means of transport is a lavender dyed school bus, which they name Priscilla. The brilliant balance between three generations of Sydney queens, played by Hugo Weaving, Guy Pearce and Terence Stamp is what drives this road movie from Sydney all the way to King's Canyon, which they famously climb in 'full drag' for the finale, an event referred to as 'A cock in a frock on a rock!'
Writer-director Stephan Elliott does a great job at the helm of a low budget production resulting in an Oscar for the ingenious costume design by Tim Chappel and Lizzy Gardiner. Their creativity for flamboyant drag is immortalized in Alice Springs performance sequence where the trio performs to the CeCe Peniston's hit Finally in a menagerie of outfits. The school bus used in the movie was a special collaboration of Owen Peterson and set designer Colin Gibson, interestingly the person behind the vehicle design for Mad Max: Furry Road.
The powerful combination of visuals and song lies at the heart of drag queen culture, but in Priscilla it reaches out, spins around the world, wins an Oscar, helps launch carriers of Guy Pierce and Hugo Weaving, reaffirms Terence Stamp is awesome, becomes Australia's biggest live musical and addresses LBGT issues in the wake of AIDS. In short, Priscilla occupies a vivid place in the memory of people who have seen it. Some go on youtube and re watch the performance of 'Finally' from time to time…
F for Fake (1973)

1
Orson Welles
+ For the first feature Keizers Kino is screening Orson Welles' F for Fake. Looking at Welles' opus this would most likely not be among the first of his films one would come across. After The Magnificent Ambersons, Touch of Evil, The Lady from Shanghai, Carol Reed's The Third Man (to which Welles' portrayal of title character, mysterious Harry Lime, shares Reed's credit in the film's acclaim), Chimes at Midnight, Macbeth, Othello, The Trial and the most famous of them all, Citizen Kane, a cinematic masterpiece and Welles directorial premier he made at the age of twenty four, one eventually arrives at F for Fake!
With this, his last film released in 1973, we get the master storyteller in his top form. After a maverick career of battling production studios for his notoriously uncompromising artistic freedom, making generally critically acclaimed and commercially problematic films, the choice of theme is not a surprising one. Fakers and tricksters he feels kinship with and fraud is a prism through which he choses to weigh the greatest of themes; art and truth (value and authorship, respectively). Using the medium, as it is seldom been used before or since, he forges a visual essay, a documentary, biography, an autobiography, a collage, a reportage, an ode to arts and to fiction as he launches his offense of cynicism and nostalgia.
F for Fake's narrative, like most of Welles' movies, is driven from a charismatic persona. The films' protagonist fakers, famous art forger Elmyr de Hory2, biography trickster Clifford Irving3 and Orson himself, a veteran charlatan of the War of the Worlds hoax, are locked in a 'wellesian' character narrative, feeding of each other evoking the ghosts of Modigliani, Cezanne, Picasso, Howard Hughes as they go. In this way F for Fake outlines an issue, as contemporary as any: the one of responsibility, questioning the authority of the so called experts to press and price values on society. As he addresses us, his audience directly, prophetic of today's mass media, we are spellbound into believing the truths and the hoaxes in equal measure.
A Matter of Life and Death (1946)

4
Michael Powell & Emeric Pressburger
+ Michael Powell & Emeric Pressburger's A Matter of Life and Death (1946) is a dive into the possibility of film. Made at the peak of their careers, after The Life and Death of Colonel Blimp (1943), and before Black Narcissus (1947) and The Red Shoes (1948), all works spoke in the same breath as Alfred Hitchcock and David Lean films within the context of British cinema.
A Matter of Life and Death weaves the plot around two worlds – one of the living and the one beyond. Determined to use colour in their films only when it makes sense to do so (conceptually), Powell & Pressburger represent the world of the living in lavish technicolor, while the afterlife is shoot in black and white, both wonderfully photographed by Jack Cardiff. The absence of colour is compensated by compelling set designs by art director Alfred Junge, envisioning the architecture of Heaven. As spaces they are as charming and exciting today as they were in the monochrome post war Britain, which is a kind of visual longevity CGI aided designs of today bid to achieve.
Powell & Pressburger, also known as The Archers after their production studio, shared credit of writing, producing and directing all their films although Powell was always the director and Pressburger a screenwriter. They complemented each other's work resulting in one of the most fruitful and long lasting film-making partnerships and a life long friendship. Their work ethics was further strengthened by long term collaborators from the ranks of both cast and crew. Powell, already a seasoned director, matured into a kind of impresario of the ensemble and knowing how to get the best out of it was his way. The Archers not only made films but help shape the art form itself and they've done it with the eye, the brain and a lot of heart!
Five Obstructions (2003)

5
Lars von Trier & Jørgen Leth
+ In 1967 Danish film maker Jørgen Leth makes a minimalist short film with an oxymoron title: The Perfect Human6, in which he introduces us to a man and a woman. We see them in a white space interacting with a few props and each other in a metaphoric choreography of everyday western life as we hear narrator saying: "Now we will see how a perfect human looks and what it can do." Borrowing from the aesthetics of a TV advertisement, we begin to suspect Leth is selling us something and like a good salesman doing it with ample elegance…
In 2003 Lars von Trier – another Dane and an enfant terrible of European cinema – puts together a documentary, The Five Obstructions, in which he challenges Jørgen Leth to re-direct The Perfect Human five times over by obeying the conditions he, von Trier, imposes. "I want to banalize you", says von Trier as they discuss the conditions of the first obstruction. What follows is a masterclass in film-making as these two great Danes stake wits, egos and morals in their intellectual courtship.
The Five Obstructions seeks to deconstruct 'perfection' of The Perfect Human by looking into the processes of creativity. The experiment exposes a curious trait the human possesses, simply the more you obstruct him, the closer he comes to perfection. This film is Von Trier's sadistic gift to his friend and mentor Jørgen Leth, who masochistically ends the original and all subsequent version of his film with the human saying: "Also today I've experienced something, which I hope to understand in a few days."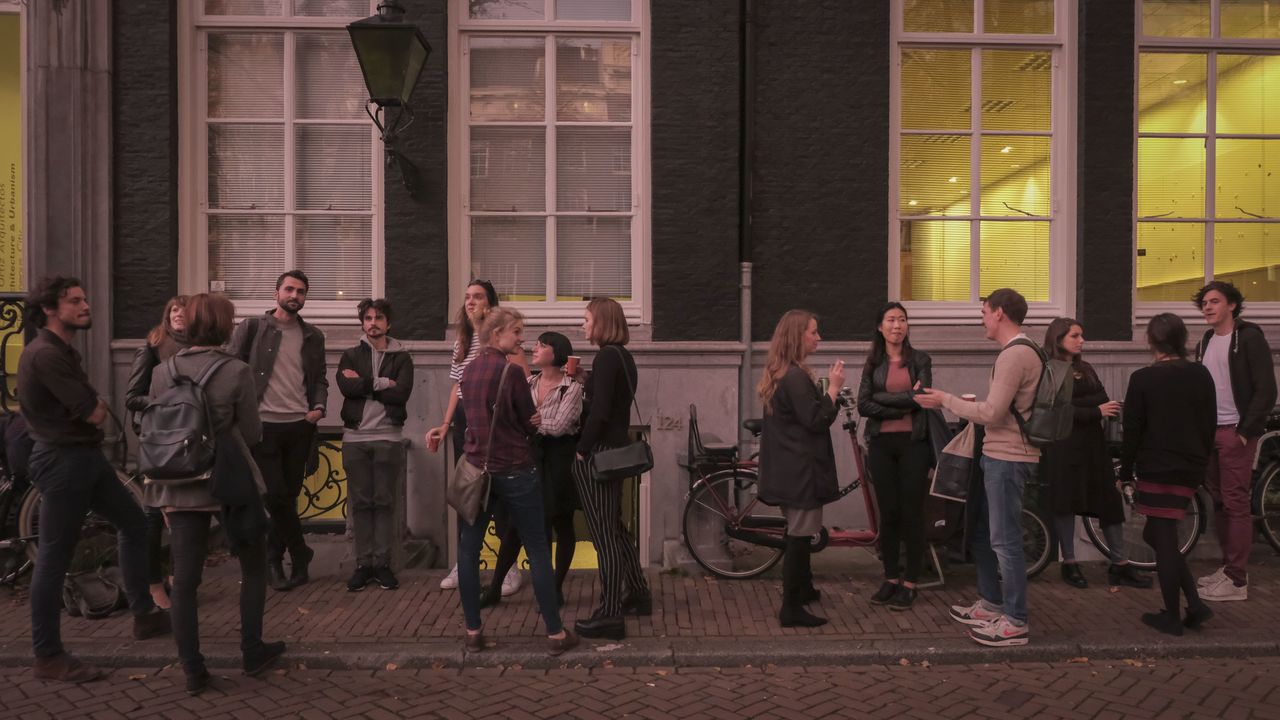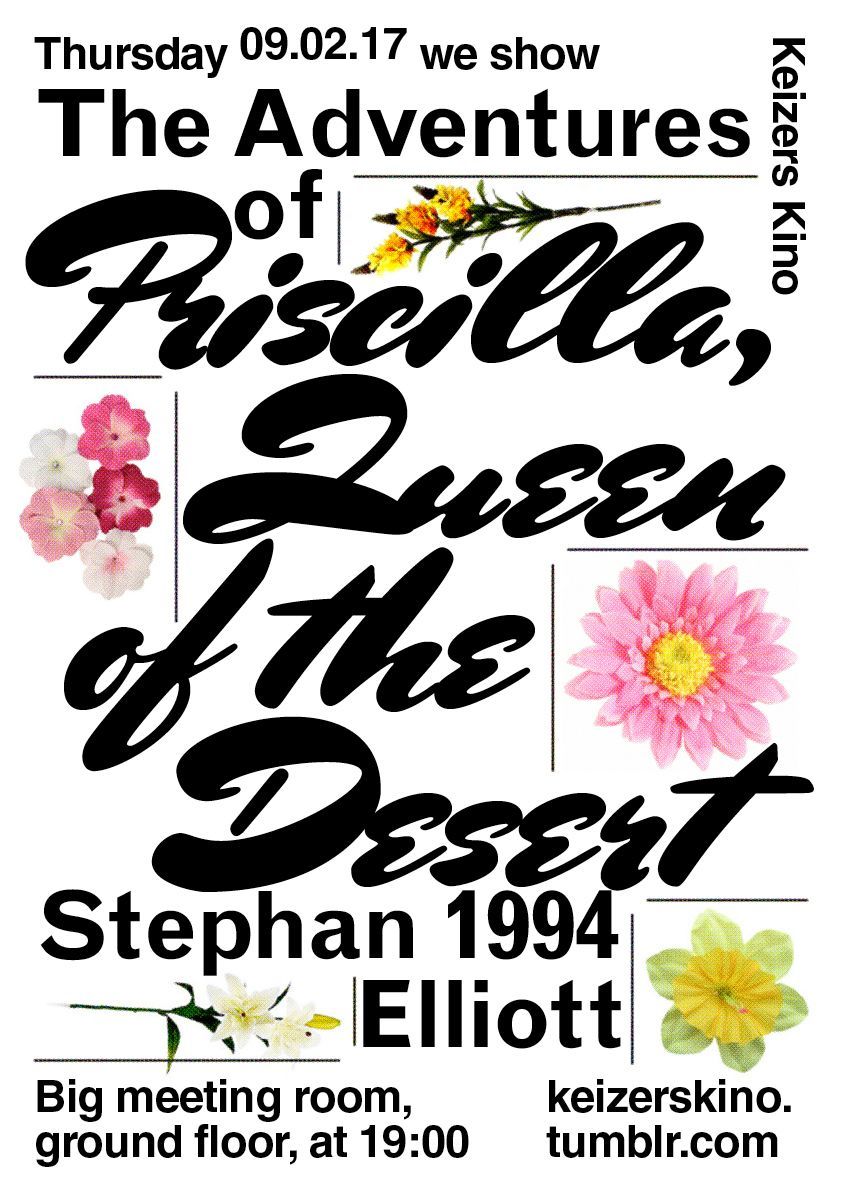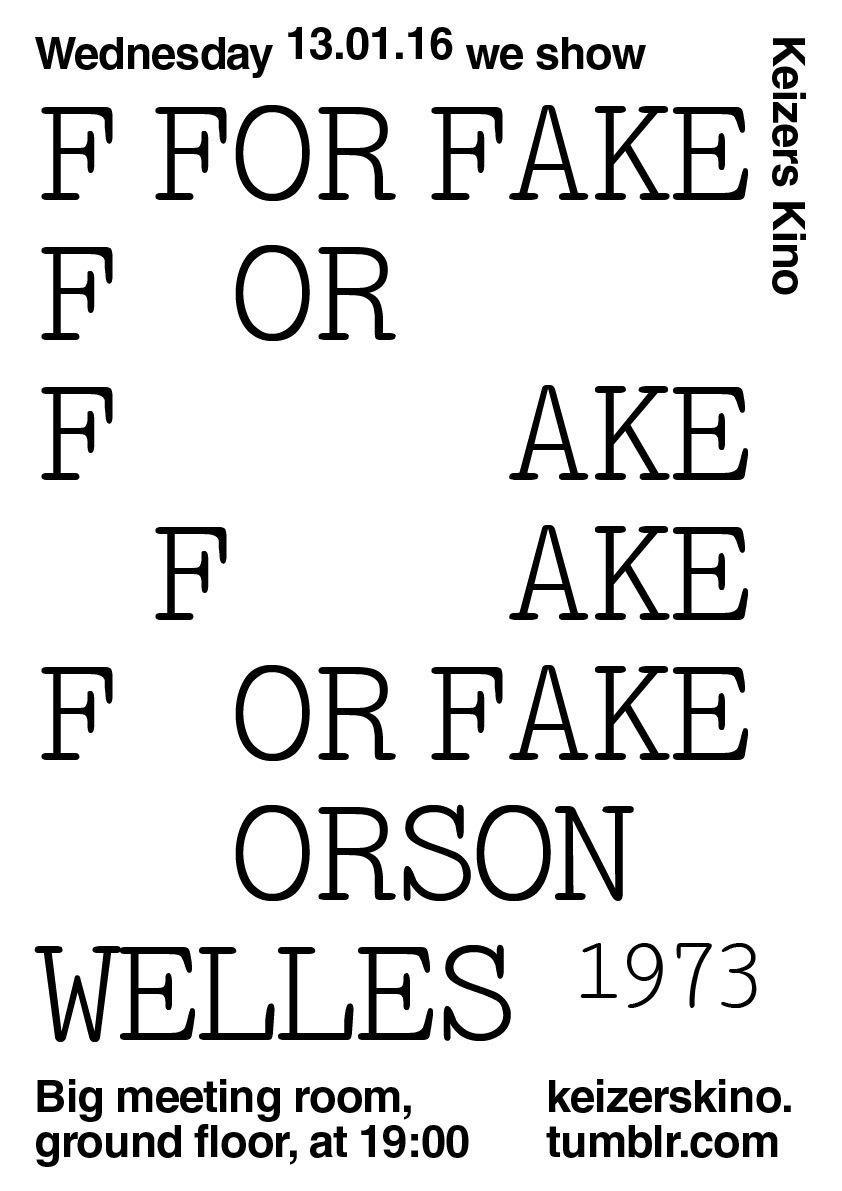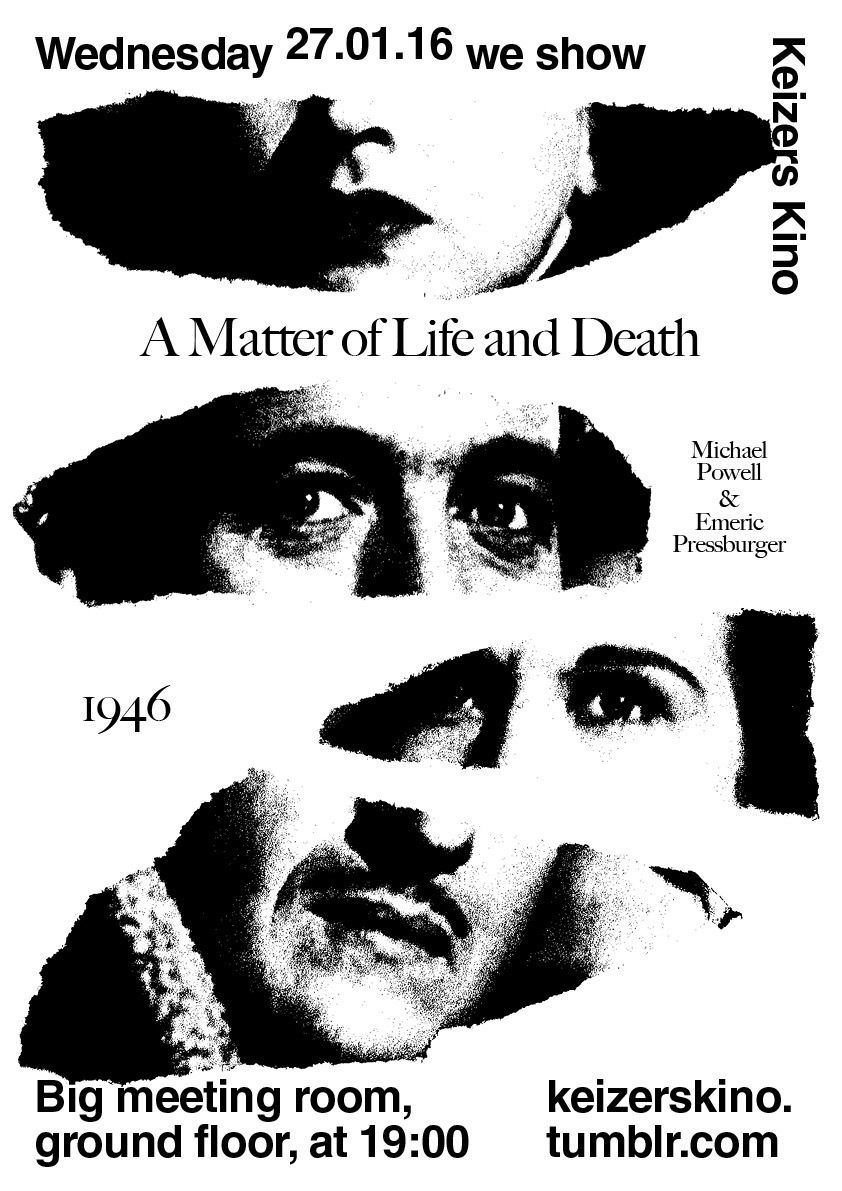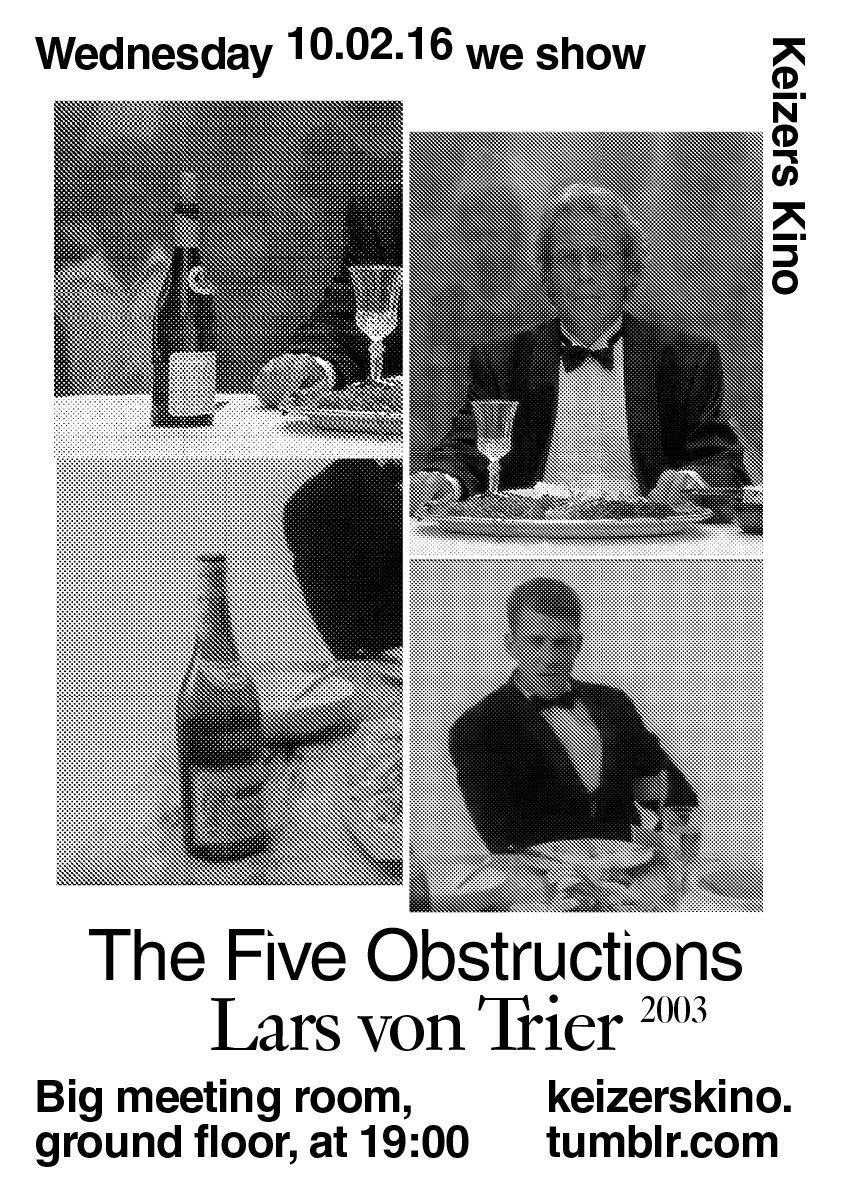 //Initiated by Ona Harster, Nuno Beijinho & Igor Sladoljev in Amsterdam, 2016 // Posters by Nuno Beijinho